Me, Tom and Dick Smothers backstage at Grossingers in the Catskills approximately 1982.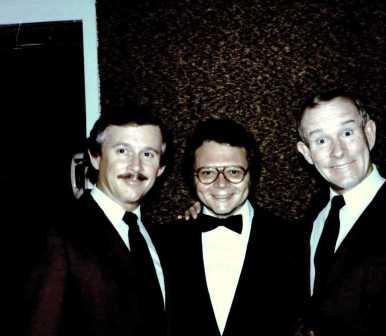 It seems like such a short time ago, such a fast time ago. Time speeded up with Tom and Dick Smothers. I went from being a piano teacher who played in night clubs and lived in a Houston, Texas suburb, to a jet-setting pianist/conductor and road manager with arguably one of the greatest comedy acts of all time, The Smothers Brothers. How in the world did that happen, and most of all, Why Me? Thanks to a Houston pianist named Danny Ward who thought enough of my playing to call me when he was unable to take the gig, I got the job of a lifetime. I didn't think it would turn out that way, of course. I played my gig with them, got an autographed picture, and fully never expected to see them again. Looking back, though, I think what made the difference was my lifelong adoration of the Brothers, and having watched them so avidly on T.V.

I actually had a wish as a kid of working with either Andy Williams or The Smothers Brothers who both had variety shows and both appeared on Sunday night. I was a nervous wreck at the rehearsal, and I remember doing Michael Row the Boat Ashore, when Dick said I should do this or that, but Tom waved him off, wanting me to do my own thing. I actually taped the rehearsal and went back to the room and studied it carefully up until showtime. When it was showtime, it was magic. I nailed everything, and we all knew it. It felt like I had always been with them. The next thing I knew, I heard from Tom himself, asking if I could come out on the road with them for a couple of weeks. I told them I would have to work it out with my teaching, but they offered to compensate me well, so I did it. Then, about every two to three weeks, I got a call from them.

The calls got bigger: a Showtime special, a week in Tahoe, Hosting Saturday Night Live, a week in Lake Tahoe. Finally, Tom took me aside backstage and said he knew I took a lot of pride in my teaching, but "Just how much can I buy your pride for?" We were working a job in Riverside when Tom and I were driving back to L.A. and he told me he thought they were going to get a T.V. show, and that I should move out and be a part of it. The next thing I knew, I had a full-time job, my wife and I were moving out to Los Angeles, and I was about to give up teaching and begin life in a completely new universe, one that was exciting, unfamiliar, and a little bit scary, and a whole lot fun. I was truly in the BIG TIME, with capital letters!